Review Detail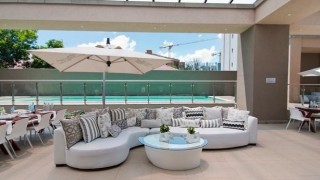 Cafés, Restaurants & Bistros
MiReviewz 621249
June 01, 2015
Accessibility of Services
8.5
After going many years to the old cod father that was on Rivonia (literally 1km from the house) I was disappointed to hear that it was moving. What got me more down was the fact that the menu was different. Anyways thats water under the bridge and Codfather was the venue for New Years Eve. One of our friends was down from the UK, who previously lived in Johannesburg, and he loves the flavours and variety of food we get in Jozie.

The restaurant is situated on the ground floor of the Sandton Skye building. It is extremely spacious with both and inside and outside seating area. They have the usual fish and seafood display where you can pick and choose from a variety of seafood and make your own meal.

I usually used to order the chicken and prawn combo they had at the old restaurant, but since the menu had changed I decided on the half peri-peri chicken from the menu to see if it could live up the expectations its predecessor had left. The chicken wasn't as quite there, but it was still great. It was served with a generous portion of chips, and peri-peri sauce on the side.

For dessert I had noticed the ice cream stand as we had walked in and had set my heart on that for my dessert. I ordered 2 scoops, one was the starbuck coffee flavour, the other flavour has seem to be lost in the blur of the drinks that flowed that night as well. However the ice cream was lovely but could have been a little creamier especially if its made in house.

Thanks to the staff of Codfather for a fantastic New Years Eve.

Corroboration of Service Usage
Date of Transaction
January 02, 2016
Comments